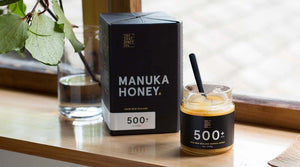 deliciously beautiful: soothing skin ritual and manuka honey facemask
We're well and truly back into the swing of things in 2017. To help you maintain the delicious and delicate equilibrium of the summer break, here's a lovely skincare ritual featuring a simple Manuka honey facemask.
We've used products from the Martina Organics range for our ritual, as they're made in New Zealand using only 100% certified organic, natural ingredients. But you could use the skincare products you have at hand.
You're invited to take a load off your feet and the phone off the hook. Pour some tea, listen to familiar music, light a favourite candle. If you have a bath, you may like to begin filling it now.
First. Cleanse deeply
Moisten face and neck, then apply the oil cleanser, massaging with gentle fingertip pressure for as long as you can spare. Smooth softly over eyelids (if wearing eye makeup) then rinse off with warm water and a facecloth.
Reapply a few drops of cleanser, and sweep the natural bristle brush in light circles (avoiding the eye area) to gently exfoliate. If skin is sensitive, or has been exposed to the sun recently, please go easy on yourself.
Next. Soothe & tone
The toner is deliciously hydrating with rosewater and cooling with witch hazel. Apply to a cotton pad and sweep away the last traces of cleanser.
 Then. A Manuka honey facemask
A facemask is beautifully enforced stillness. For 15 minutes there's nothing else to do but relax. So do.
For dry, sensitive or mature skin, mix together
1tsp Manuka honey, gently warmed
1tsp ripe avocado, mashed well
For combination or oil prone skin, mix together
1tsp Manuka honey, gently warmed
1tsp ripe banana, mashed well
For either mask:
Apply to skin and leave on for 10-15 minutes (or longer if you can) before rinsing. Hydrating, healing and antibacterial, the Manuka honey facemask is beneficial enough with just pure honey, but avocado adds nourishing oils, while banana is kind and calming.
Last. Restore & renew
Massage a few drops of oil moisturiser into your face and neck in gentle circles. Pat onto brow bone and beneath the eyes. You're all done.
Now, just breathe. Don't rush back to the day if you can help it.
Savour a few minutes more of no-busy-ness. And be kind to yourself.
For the ritual set products, visit martinaorganics.co.nz0