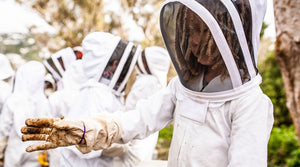 impeccably dressed: an easy salad from the kids at te huruhi school
The humble bumble and honeybee are vital to our food ecosystems and us. And we believe conservation starts with education. So to champion our stripy little besties, we've teamed up with the good folk at Garden to Table Trust.
Garden to Table's school programme is changing the way kids think about where our food comes from – including the role bees play in pollination. And by supporting this programme, we're helping to educate the next generation about the importance of bees. As well as donating $0.50 per jar sold in New Zealand, we supply each school in the programme with some delicious table honey for these budding foodies to use in their recipes.
Louise Waghorn from Garden to Table popped over to Waiheke Island recently to catch up with the kids at Te Huruhi School. There she talked to 10-year-old Huia Morphett – young honey lover and possible-chef-in-the-making – while he multi-tasked making the wonderfully named Salad of the Imagination and Honey Mustard Dressing.
Louise: I am doing this interview so we can let our friends at The True Honey Co. know how much their lovely honey is used and appreciated by the kids in the Garden to Table schools. Do you like doing Garden to Table?
Huia: Yes, I really enjoy Garden to Table, I get to make things that aren't just meat. Like with vegetables, it's fascinating.
(There's a quick pause while Louise and Huia taste the honey on its own.)
Huia: It's really good
Louise: What was in the recipe for the dressing?
Huia: We used 1/3 red wine vinegar and 2/3 olive oil, plus honey and mustard, salt and pepper to make it taste nice.
Louise: Did you change the recipe at all?
Huia: Yes, we added garlic because we thought it would be nice with the honey. We started with two cloves and we thought we might go up to four, but we waited to see how the dressing tasted once the garlic had sat in it for a while. We decided two was enough. We added two extra dessert spoons of honey because we thought it was so good, and would make the kids like the dressing more.
Louise: What have you found most difficult this morning?
Huia: The table is too low and it hurts my back when I am chopping.
(Another brief pause while Huia moves to a higher bench!)
Louise: What do you think of the salad and dressing recipe?
Huia: It's nice, the garlic was a good addition and we added half a red onion to the salad, cut up small and that was nice. To all the green leaves we also added dried cranberries, almonds and sunflower seeds. I think the salad looks pretty good. I think the only thing I will be eating is the salad!
Louise: Thanks Huia, I think the salad looks pretty good too and it has been nice cooking with you.
Te Huruhi School has been a Garden to Table school for four years. It has extensive gardens and a large number of regular volunteers who support the programme. Today's class was Ngā Purapura Akoranga which is the bilingual class in the school.
Thanks to Pat at One Percent Collective for this shot from Te Aro School in Wellington!