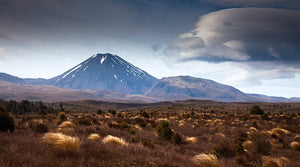 on top of the world: destination central plateau
The Central Plateau lies in the 'middle bit' of New Zealand's North Island. And mighty Lake Taupo (New Zealand's biggest lake) sits in there like a rather deep bellybutton. We love this month's destination, and not just for the delicious high MGO rated honey our bees make around these parts. Turns out it's a great place for humans to visit too.
In terms of its name, the Central Plateau 'is what it says on the jar'. It's a vast area of relatively level, volcanic country at quite a high altitude, extending from Ruapehu and Lake Taupo in the south, towards Tauranga and the Bay of Plenty in the north-east.
The Region, along with Lake Taupo, makes up the traditional tribal lands of Ngati Tuwharetoa. Its rich Māori history makes it a unique place to explore, and one that's chocka with natural and cultural landmarks. Like the awe-inspiring beauty of Tongariro National Park and Mt Tauhara. And Lake Rotoaira, birthplace of the stirring Ka Mate haka, composed in 1849 by Ngāti Toa chief Te Rauparaha, and familiar to rugby fans all over the world.
A name you might hear related to the history of Ngati Tuwharetoa is 'Tia', an explorer who became the tribe's chief. You'll see his name attached to many of the area's geographical features, including Atiamuri, Aratiatia Rapids, and the cliffs around the lake rather grandly titled Taupō-nui-a-Tia (the great cloak of Tia).
In fact, many of the region's natural features have earned the description 'dramatic' from snow-blanketed mountains to desert landscapes, from frothing river rapids and crystal lakes to thermal hot springs, and from lush native bush to windswept tussock plains.
On the slopes of Mount Ruapehu sit Whakapapa and Tūroa Ski Fields – with a huge choice of open, gentle slopes to get your bearings on, as well as more challenging chutes, bowls and some black diamond magic. Whakapapa's Happy Valley is where many a Kiwi kid's first memories of snow come from.
This part of the North Island offers plenty to tempt tastebuds as well as turn heads. There are two main touring routes – both finishing in Hawke's Bay – to help you take in as many local delights as possible. The Thermal Explorer Highway leads to geothermally-farmed prawns (see highlights below) and traditional Māori hangi, while the Pacific Explorer Highway meanders along the coast for a buffet of places to try seafood, fresh produce and great wines. You can base yourself in boutique vineyard accommodation or at one of the handful of restored historic hotel scattered along the routes.
Tick these prime Central Plateau attractions off the bucket list
For breathtaking views and a glimpse into the region's history, start with a visit to Tongariro National Park's World Heritage Area.
Wairakei Terraces and Thermal Health Spa lets you immerse yourself in a geothermal wonderland of spectacular terraces, cascading silica waters and lush native bush.
Taupo boasts the only place in the world where you can eat prawns grown in geothermally-heated water, and fish for them yourself – at Huka Prawn Park.
Taupo township offers plenty of places for a bite and a tipple. Local favourites include Spoon & Paddle, The Bistro, Vine Eatery and Crafty Trout Brewery.
If you're a downhill demon, there are tonnes of mountain biking trails in and around the Tongariro National Park and Whanganui National Park areas. And Ruapehu is home to both the Timber Trail, and Mountains to Sea, Nga Ara Tuhono – two New Zealand Cycleways Great Rides.