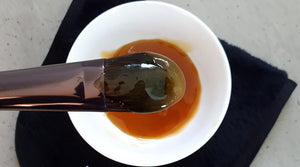 skin, hair & everywhere: why manuka honey is a must in your winter beauty line up
This time of year can be tough on skin and hair. Biting wind, blasting air conditioning, and an overwhelming desire to forgo fresh salads for fatty, sweet, salty comfort foods. So here at The True Honey Co. we're making the most of the long winter evenings to indulge in a spot of home spa R&R. Rather than invest in pricey products and complicated concoctions, here's a selection of our favourite pampering recipes suggested by fellow honey lovers. Most of them use ingredients readily available in your pantry or bathroom cabinet, alongside The True Honey Co. Manuka honey.
Because there's more to staying in than simply binge-watching the latest on Netflix. (Although that's easily combined with many of the below treats and treatments).
So settle in as we share some of our go-to recipes for top-to-toe winter pampering.
Lip service. Homemade lip balm is an easy DIY winter beauty saviour. This deliciously nourishing beeswax lip balm uses Manuka honey for its humectant (moisture attracting) properties, flavour, and as a natural preservative.
1 1/5 Tbs beeswax
1 1/5 Tbs cocoa butter
1 tsp vitamin E oil
1 tsp The True Honey Co. Manuka honey
1 tsp olive oil
5-10 drops of essential oils – the best ones for lip balms are orange, peppermint, rose, lavender, grapefruit or geranium. (Don't use any you wouldn't consider eating.)
This mix makes plenty, so either reduce your quantities, or get gifting!
To make your lip balm:
Put all ingredients except essential oils in a glass bowl over a small saucepan of simmering water.
Stir continuously for as long as it takes the beeswax to melt – this will be a few minutes. Be patient, it will eventually melt).
Remove from heat and stir in the drops of your chosen essential oils.
While the mixture is still warm enough to pour, fill your clean containers (we reuse small cosmetic jars and tins) and allow to cool before adding lids.
No hair here. For a natural (facial) hair remover, mix 1 teaspoon of honey with 1 teaspoon of lemon juice and 3  teaspoons of soft brown sugar in a glass bowl. Warm gently over a pot of water on the stovetop, or in the microwave. Stir well and let the mixture cool to room temperature. Apply evenly to a small area of facial hair using an ice block stick or wooden spatula. Place a small piece of cotton handkerchief over the top and rub slightly. Hold skin taut and pull off the cloth in the direction the hair grows. You might like to apply a little tea tree oil where you removed th e hair, before repeating the process. If you're trying this for the first time, it's a good idea to do a small patch test first.
Take the day off. Dissolve a tablespoon each of Manuka honey and coconut or jojoba oil in a cup of hot water, with 2-3 drops of lavender essential oil. Simply add to a bath to cleanse and soak away a hectic day.
Crowning glory. Mix Manuka honey with olive or coconut oil for a deep conditioning treat. Massage through hair and leave for 20 minutes in a towel, then shampoo.
You're nailing it. If you have weak, brittle nails, try mixing 1 tablespoon of Manuka honey with ¼ cup of apple cider vinegar in a shallow dish. Soak your nails for 10 minutes and rinse. Repeat weekly for healthy cuticles and nails, while beating any nasty germs to the punch.
The big reveal. Take a tablespoon of Manuka honey and warm it slightly. Apply evenly all over your face (keeping your hair out of the way!) and leave on for 20 minutes before rinsing with lukewarm water. This gentle humectant mask is a weekly treat that goes beautifully when combined with a warm bath. To dial up the nourishment, combine honey with a spoonful of ripe, well mashed avocado.
Bathing beauty. This easy, skin loving treat will leave you feeling good enough to eat. Combine 2-3tbsp sugar and a few drops of almond or olive oil in a bowl. Add 1tsp of Manuka honey for extra cleansing, and stir to form a grainy scrub. Massage all over the body, then rinse with plenty of warm water.
Little extras from our honey lovers. Sandy uses Manuka honey to help with protecting and healing winter chapped skin and small cuts, while Kathy dabs some on skin irritated and dehydrated by heating and air conditioning.
BTW. Please look after yourself. As for any cosmetics, some ingredients may cause a reaction. Please don't use if you are sensitive to any of the above ingredients, including honey. It's a good idea to patch test before use too. Happy pampering!