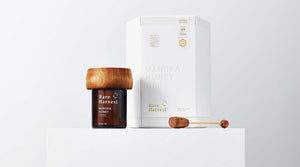 the world's rarest Mānuka honey is here
All honeys are most definitely not created equal. But there's only one that can claim its spot as the highest Unique Mānuka Factor (UMF™) ever tested. And that's The True Honey Co's very own Rare Harvest.
In May we released our incredibly limited-edition Rare Harvest. This authentic New Zealand Mānuka honey, harvested from a single highly secret block has been independently certified by the boffins at Analytica to be an unprecedented 1,700+ MGO. That's a whopping 31+ UMFTM – the highest level the UMFHA have on record so far.
Each jar of this precious, highly collectible 2017 Rare Harvest is luxuriously topped with a hand-turned New Zealand native timber lid, the wood also incorporated into a bespoke, brass handled honey drizzler. Its white, magnetically closed outer box opens into five segments, reflecting the petals of the Mānuka blossom – which, in spring and summer blankets the remote New Zealand countryside in soft white.
But as true luxury Mānuka honey aficionados know, it's what on the inside that counts. Something UMF Honey Association spokesperson John Rawcliffe was rather impressed by. "The UMFHA can confirm that the Mānuka Honey sample submitted by its member The True Honey Co. – has generated the highest ever recorded UMF test result since our accredited laboratories first began testing samples."
"The UMFHA testing process tests for three key signature markers that, in combination, confirm whether a product is genuine Mānuka Honey from New Zealand. Those three key markers are Leptosperin, MGO and DHA. The levels of signature markers found in the True Honey Co. product is exceptional and underscores the quality and intensity of Mānuka honey from New Zealand."
Just as an oyster overcomes grit by creating a precious pearl, the challenging weather conditions of the 2017 season drove one single windswept, remote Mānuka block to produce a particularly potent nectar. This resulted in an extraordinary, singular harvest – so special that we decided to release the honey as a very special limited edition of just 1000 authenticated, hand-numbered jars, signed by our founder Jim McMillan.
This kind of result may be due to an extraordinary set of natural circumstances, but as The True Honey Co. founder Jim McMillan says, it's not something to leave simply to chance. "We stand behind every drop of our honey and this can only be achieved by having full ownership and control from hive to jar. The genuine care of our honeybees is paramount to us, because healthy bees make exceptional honey."
The True Honey Co. Rare Harvest will be available here and through selected retailers until it runs out.