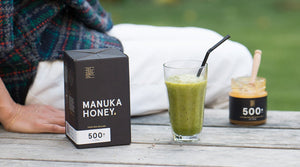 wonderful ways to use manuka honey
Since we launched The True Honey Co. last year, we've been absolutely chuffed to hear from our honey lovers about how to use Manuka honey. Turns out there are so many ways we'd never thought of. So these days when we get asked what to do with the stuff, it seems only fitting that we'd throw the floor open to all you clever folk out there who have generously contributed your tips, recipes and ideas.

in the kitchen
Call us biased, but we think Manuka honey makes the list of pantry 'must haves' for its myriad tasty culinary uses. And hearing from you foodies out there, it seems you're rather fond of it too.


Stir a (slightly warmed) spoonful through unsweetened yoghurt for a snack, or serve on the side of cakes and slices.
Honey lover Helen makes a tonic for her husband to take to work with apple cider vinegar, honey and lemon.
Cath REALLY (emphasis hers) loves it on top of hot toasted crumpets – not so healthy, but definitely delicious!
Dressing a salad? Mix equal parts Manuka honey, balsamic vinegar and olive oil into a jar and shake until the honey's dissolved. Add herbs, pepper and sea salt to taste.
Preserving fruit with Manuka honey is a lovely natural alternative to refined sugar. Dissolve one part Manuka honey in ten parts water, making sure fruit is well covered.
A little Manuka honey in a glaze enhances browning and crisping (but not too much, it tends to burn).
Adriana loves hers in the winter drizzled over a hearty bowl of porridge with berries or banana.
Chris swears by Manuka honey to fancy up her signature Orange and Manuka Honey Glazed Carrots. She says the depth of flavour gives them a richer flavour.
Amy recommends the classic wintry hot drink with lemon and hot water!
Wendi pops a spoonful into her healthful sweet smoothies – with plain yoghurt, berries, coconut oil, grated ginger, and a dash of vanilla.
Trevor uses a dash of Manuka honey to sweeten his tea.
Jo's homemade healthy chocolate stars coconut oil, raw cacao and Manuka honey.
Chloe makes her Saturday morning French toast extra decadent with a drizzle.
Stephanie says "I've just made some crème fraiche… I'll mix it in to sweeten it lightly and serve with berries!"
The cornerstone of a good cheese board: serve with walnuts, drizzle over figs, and pair with salty feta or blue cheese, and oat crackers.
Nicky makes Superfood energy balls with Manuka honey – great in a lunch box or as a healthy, packaging free snack.
Anna's veggie smoothies and juices get a little sweet kick with top notch Manuka honey – combined with lemon juice, cinnamon and cayenne for a detoxing boost.
Jamie makes a sterling smoked salmon with Manuka wood chips and Manuka honey.