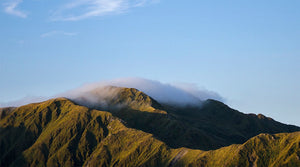 destination tararua: and the far-flung spots that we call home
This month's destination, the rugged, isolated Tararua region has strong winds, cold winters and high annual rainfall – making honey harvest here quite an adventure. And adventures are something more and more visitors are discovering in our little corner of the world.
The Tararua District sits near the south-east corner of New Zealand's North Island. Its main town is Dannevirke, home of The True Honey Co. – which may be part of the reason this region holds a very special spot in our hearts. Its first European settlers came from Denmark and Norway in the 19th century, and the area has a rich Māori history relating to the Rangitane and Ngati Kahungunu Iwi.  
You might expect that Tararua's rugged landscape and harsh climate would put outdoor types off. Quite the contrary. Its two national parks and network of rivers make it a magnet for those keen on hiking, fishing, climbing and cycling. As we're about to share, there's plenty to do around here.
The first of its kind in New Zealand, the Tararua Tramping Club was established back in 1919. And they must've been onto something, because hiking in the Ruahine and Tararua Ranges is a chance to experience some of the North Island's best backcountry. And there's plenty of countryside to immerse oneself in here: the Tararua Forest Park is a whopping 116,535 hectares – the North Island's largest conservation park managed by the Department of Conservation.
The little town of Eketahuna is a nice spot from which to take a hike, by accessing the Tararua Range across the unique Putara swing bridge. And for a pitstop of the pick-me-up kind, The Lazy Grace and Addiction Coffee House (both on Main Street) are good places to re-caffeinate. 
Nearby Middleton Model Railway & Cwmglyn Farmhouse Cheese is home to a small herd of Jersey cows and an even smaller train set (the largest in New Zealand). There's even a model railway shop for those of us who can't resist buying things in miniature.
The National Wildlife Centre at Mount Bruce is just minutes away from Ekatahuna too. It's home to scaly, finned and feathered native creatures. Tuatara, takahe, kokako and even kiwi live here. But humans are welcome to come for a day. For this purpose, there's a visitor centre, a café, interactive displays and learning programmes. Wheelchair friendly tracks make the beautiful protected native bush more accessible, and if you time your trip right, you might even meet resident kākā and eels having their daily feed.
If you're 'angling' for some of the country's best trout fishing, you'll want to pack your waders and tie some extra flies. Basing yourself in Pahiatua puts you in close proximity to the Makuri, Mangatainoka, Mangahao, Makakahi and Manawatu Rivers.
If vertical rivers are more your cup of tea, Waihi Falls are well worth a visit. Particularly if you're there in summer, as the 25-metre high waterfall spills into a swimming hole – the perfect place to escape on a hot day. The Falls' remoteness means it's rarely crowded (so don't tell too many people about this secret gem if you'd like it to stay that way).
Akitio Beach is also far flung enough for some peace and quiet. With its easygoing camping ground, sandy beaches and gentle lagoon, it's a good destination for fishing, whitebaiting, swimming and simply splashing about.
Whariti Peak, at the southern tip of the Ruahine Ranges, is one of the highest points in the North Island accessible by car (drive carefully as the gravel road has a few rough spots). While it's not high enough to require oxygen, on a clear day the view is likely to take your breath away. It stretches south to Kāpiti Island and west to mountains Taranaki and Ruapehu. If you look east, you may see the Hawke's Bay and a glimpse of the Wairarapa.