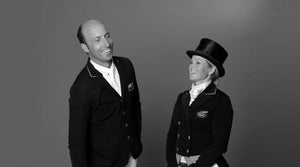 friendly competition: a chat with Jonelle and Time Price
With wins in the UK's Burghley Horse Trials and Badminton Horse Trials under their belts, Jonelle and Tim Price are headlining the upcoming Land Rover Horse of the Year's Burghley Day themed Cross Country competition. The event attracts a (ahem) fine stable of top Kiwi talent to vie for enviable equestrian titles and prize money. And The True Honey Co. is proud as punch to be bringing the new 'power couple' of world eventing home to compete. We were also rather chuffed to have the chance to chat to the couple (via the wonders of WhatsApp) who call themselves "the best of friends and fiercest of competitors".
Q: Tell us what you're up to right now.
Jonelle Price (JP): We are down in the very south of Spain near Kadez we've been down here just coming to the tail end of three weeks jump training, show jump training. So, we come down to a big show called the Sunshine Tour. We brought a total of 17 horses, five staff, a baby, a nanny, a dog and ourselves. Pretty much up camp and come down here, we find it a really good way to start our year get ourselves and horses ready for the season ahead.
Tim Price (TP): In other plans… we're going to go back and get started with our year of actual eventing rather than just show jumping which we're doing down here (South of Spain), which is for training purposes.
TP: Everything happens pretty quickly. Jonelle is only back in the UK for 2 days before she jumps on a plane to fly over to train with the up and coming talent of New Zealand eventing and to Land Rover Horse of the Year, and then I follow her over on the weekend. It's a fairly busy schedule coming up because after that, we're only home for a few weeks of national competitions before I board another plane with my horse to compete in Kentucky at the end of April. Following on from that is Badmington where Jonelle is going to try and retain her title, and I'm going to give her a good challenge along with the 100 other very good competitors. They're our short term plans.
Q: What are the biggest challenges with the life you both lead?
JP: Logistics, getting from A to B at the right time, with the right things, paying for it. It's a pretty fast pace, there's a lot to organise, it's a fairly big show to keep on the road nowadays. Keeping a few steps ahead of yourself.
Q: "The best of friends and fiercest of competitors." – how do you both make that work?
TP: It's taken time to get the recipe about right. That's just the nature of the career or journey through your career, whether you are doing it for yourself or as a duo. We're fine-tuning the strategy that works best to bring out the best in both of us and our horses and be as competitive as possible. Probably about four or five years ago we found a good way through that which came about largely through respecting each other's different ways of going about things. Ultimately we are individuals, so you get behind each other's strengths and encourage each other in the right way. And then you actually bring the best out in that person even though it might not be the way you would do it.
Q: How do you take care of yourselves with such a busy schedule?
JP: Keeping fit and healthy is the main thing. When we need to, we make sure we really sleep. We both have a genuine interest in food and diet. I have a real passion for cooking, so we do enjoy eating well and eating clean. We try and be strict on diet wise and just staying healthy. It's 9am and I've just come back from a bit of a run, staying fit and healthy.
TP: It's definitely a lifestyle, we are not hard core athletes where we have to completely restrict or control our way of living to run .003 seconds faster than the next guy. It's more about having a well-rounded lifestyle so that you can bring that balance to the way you deal with horses, and bring out the best in them. Also, it's quite a long career so you don't want to be doing something for a big chunk of your life that isn't sustainable.
Q: What are the hidden gems you love to share with visitors to your little corner(s) of the world?
TP: New Zealand. It's always fun coming back home and having a few northern hemisphere buddies come down to spoil them a little bit. Even though there is a great reputation for what New Zealand has to offer, you never quite know it unless you come down and experience it yourself – just what that means. It's fun being a part of that with people. A couple of our favourite key spots are in the top of the South Island, Abel Tasman area. It's got outstanding beauty, not too swamped in people and a lot of fun day adventures to give people a real jam-packed, fun few days.
JP: Cornwall, on the South West tip of England, about four hours from us in Wiltshire. We try get down there once a year in a way for us it's heading away from England, even though it's still England it doesn't feel like England. It's very quant, dinky, lots of little fishing ports, the people are quite different to what you find in the cities. It's a real gem of a spot. Lots of beautiful beaches.
Q: What are you reading/watching/listening to?
TP: We are currently watching a box set of Luther, so if we're lucky we might get to sit down and watch an episode at the end of each day… If we don't have to be somewhere or out. While we're down here in Spain it's perfect. It's pretty action packed and pretty gory: a London based cops and robbers drama.
JP: I only get to read while on holiday, too busy when at home. Certainly I make sure I've got a good book while on holiday and it's normally a crime based thriller often involving Jack Reacher, he's my hero.
TP: We've got a big range of music we listen to, old and new and everything in between. So we let Spotify do the talking.
Q: Which three ingredients are absolutely indispensable in your kitchen/fridge/pantry?
JP: Milk – Tim and Otis (the couple's son) live on quite a lot of milk. Mānuka honey of course, we use it a lot, and the other one would be soy sauce. We use a lot in Asian type cooking, salads and dressings. That would be my other staple.
Q: How do you like to use Manuka honey?
TP: I like to use Mānuka honey on my toast very regularly, it's a firm favourite and keeps me healthy and then we have it in a drink with cider vinegar regularly as well.
JP: Especially through winter I enjoy a daily drink with a teaspoon of Mānuka honey and a capful of apple cider vinegar. And then we use it in the horse yard quite a bit as well, we just use it on wounds to prevent scar tissue.
TP: It's amazing on wounds because it doesn't need oxygen or light to work properly, so you can actually wrap it onto a wound, whereas a lot of synthetic creams actually need to be open and exposed in order to do their job. So, it's a very special product in the horse yard as well.
Q: You're throwing your ultimate dinner party this weekend. Who's on the chairs, and what's on the table?
JP: At the risk of sounding a bit boring, throwing our ultimate dinner party would be our local crew here in Marlborough. We've got a really fun local group of friends; Tim's brother and his wife live just down the road. She used to be our head girl for a couple of years. Funnily enough another one of our best friends is a kiwi girl who lives just up the road. We have another great friend who is a Canadian girl that rides who went to the Olympics, so yeah we actually just have a really fun local group. That would be our idea of an ultimate dinner party, Tim would open his red wine stash and we'd lock ourselves in. We have a really fun little cottage with a lovely dining room that we like to try use when the opportunities arise.