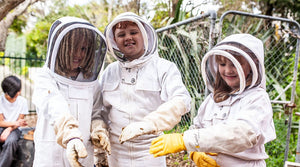 hives minds: teaching the next generation of bee conservationists
Here at The True Honey Co. we believe that understanding the important role bees play in pollination and how much we rely on our stripy friends, is key to conserving our bee population.
In case you didn't know, we've teamed up with food educators The Garden to Table Trust. And on Friday May 12, our collaborative efforts reached fruition, with the launch of our bee education resource.
The resource, which aims to teach children how and why bumble and honey bees are vital to our food ecosystem, was introduced to local Hawke's Bay primary school students at Haumoana School with the help of some local experts.
The True Honey Co. beekeeper Amanda Cunningham shared why bees are so important, and all about 'a day in the life of a beekeeper'. The youngsters were keen to see the inner workings of an (empty) beehive, and learn how helicopters place our hives in remote parts of New Zealand.
Amanda was joined by world champion rower/keen apiculturist Paddy McInnes, who shared his knowledge of bees, honey making and pollination with the year 3 and 4 students involved in the school's Garden to Table programme. The duo also led the class through activities from the bee education resource and a honey sampling quiz before planting bee-friendly Manuka bushes in the school's kitchen garden with the team.
The children are already keen as beans about learning how to grow, harvest, prepare and share fresh, seasonal food but it was inspiring to hear their bee questions for our beekeeper and see them so excited to do the activities from the module.
The visit finished off with some yummy afternoon tea (with plenty of honey).
The True Honey Co. founder Jim McMillan was thrilled to see the last few months of hard work pay off. "We were inspired to meet the dedicated team at Garden to Table and greatly admire their goals – they're truly changing the way children think about food. We considered how to add value to what they were doing, and decided that developing a bee education resource for their teachers would be a useful way to share our knowledge and passion for bees and bee conservation."
We enlisted the help of talented primary school science teacher Claire Velzian to make sure the resource worked with the curriculum as well as Garden to Table's objectives.  She made it fun, varied and engaging, giving teachers the flexibility to choose the resources and activities that best resonate with their students.
"We were so delighted to see the end result – we believe it's just the sort of resource that our Garden to Table schools will find useful and covers a wide range of topics from flowers and bees to pollination and honey production," said Garden to Table Executive Officer Linda Taylor.
Beyond bee education, we support Garden to Table through an ongoing annual donation and proceeds from every jar of Manuka honey sold. Schools involved also get some yummy Manuka honey, so kids can use this unique ingredient when cooking the fruits (and veggies) of their labours.
So what's next for our bee conservation efforts?  Jim McMillan has big plans when it comes to finding an education partner in the UK too. "We'd love to work with the likes of Jamie Oliver and his Food Revolution programme in the UK. We're determined to keep to our set of promises we made when we launched – look after everybody and every bee at every step."