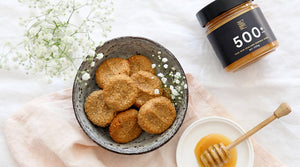 recipe for mothering cookies with manuka honey
Here's some rather toothsome nursing nourishment – in the form of 40 moreish Mothering Cookies with Manuka honey. It's the latest recipe from expectant mum and True Friend Kelly Gibney.
These delicious spiced cookies are the perfect healthy snack to fuel hungry new and nursing mums, and whipping up a fresh batch would make a wonderful gift. Manuka honey gives this recipe a gorgeous flavour and delivers much needed and super convenient 'single handed' nourishment.
Kelly has used ingredients like fenugreek, fennel and oats in this recipe to help promote lactation. The quantities below make a very generous number (you'll need to bake them in two batches).
Kelly says "I like to make lots as they freeze really brilliantly. Add 1/2 cup of good-quality dark chocolate chips for extra decadence."
Ingredients
(Makes 40 bite-size cookies)
• 1 1/2 tablespoons fennel seeds
• 2 teaspoons fenugreek
• 1/2 cup The True Honey Co. Manuka honey
• 1/3 cup melted coconut oil
• 1 very ripe banana
• 1 free range egg
• 1 teaspoon good quality vanilla extract
• 1 teaspoon ground ginger
• 3 cups rolled oats
• 1 cup crunchy peanut butter (I like use either Pics or Fix & Fogg)
Preheat oven to 170°C and line a cookie sheet with baking paper.
Place the fennel seeds and fenugreek in a dry skillet for a few minutes over a medium heat. This will smell deliciously spicy. Use a spice grinder or powerful blender to grind into a powder.
Place all ingredients in a food processor, running till the dough is mixed evenly. You may need to stop and scrape down the sides with a spatula a few times.
The mixture will be very sticky. Use damp hands to roll heaped teaspoons of dough into balls and place on the baking sheet. Use two fingers or a damp fork to flatten each cookie slightly.
Bake for 12-17 minutes, placing higher in the oven than you would usually, until lightly golden. Keep a close eye on the cookies as they'll burn easily. Remove tray from oven and let the cookies cool on the tray for 5 minutes before moving to a cooling rack and baking the second batch.
If you're transporting them in an airtight container, wait till they're completely cool first. Now, try not to eat them in one sitting!
Find more delectable and nourishing recipes on Kellygibney.com or socialise on Instagram or Facebook .